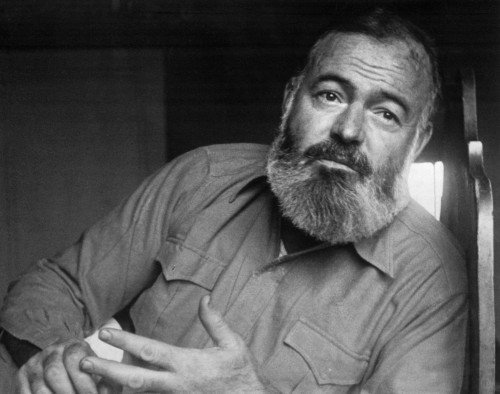 The 20th century saw the rise of a renowned author whose life and works proved to be truly extraordinary. Ernest Hemmingway's move to Key West in 1928 marked the start of an inspiring creative journey, as he produced some of his most iconic pieces including A Farewell To Arms, For Whom The Bell Tolls and The Snows Of Kilimanjaro during this period. His talent was further recognized by being awarded with Nobel Prize for Literature in 1954 - only fifth American ever bestowed such honor.
Ernest Hemingway was born into an environment of affluence, artistry and creative expression. As the son to a doctor father and professional opera singer mother, he had access to all sorts of culture from literature to music. But it wasn't just cultural refinement that fueled his childhood; thanks in part to their summer lake house stay in Michigan, young Ernest developed a deep love for outdoor activities like fishing and hunting - passions which would remain with him throughout his life time .
After taking a leap of faith and saying goodbye to his high school days, Ernest Hemingway began an adventure that would shape the rest of his life. For six brief months in 1917 he worked as cub reporter for The Kansas City Star, yet these fleeting moments imprinted on him valuable lessons from their signature style: succinctness and simplicity - elements which remaining present throughout all subsequent works by the great writer.
Even in his youth, Ernest Hemingway displayed a dynamic and awe-inspiring determination to lead an extraordinary life. At the close of World War I he took it upon himself to serve as an ambulance driver for the Red Cross on Europe's front lines - only to find tragedy when sustaining serious injuries during battle that landed him in a Milan hospital for half a year before returning home at age 19.
Ernest Hemingway's journey to becoming one of the greatest authors began in 1920 when he moved from journalism job to Chicago. There, his friendship with celebrated novelist Sherwood Anderson changed Hemingway's life forever; Anderson persuaded him go across the Atlantic and make Paris their home - a decision that ended up being perfect for young Ernest as it turned out to be vital for launching his writing career. During this time period, he also tied the knot with Elizabeth H. Richardson who became Mrs ErnesstHemingt way number 1.
Ernest Hemingway's Parisian escapades were filled with a cast of characters befitting the "Lost Generation," as Gertrude Stein called it. Surrounded by celebrated writers like Ezra Pound, James Joyce and F. Scott Fitzgerald; painters Pablo Picasso and Joan Miro, he set out to give form his creative genius in 1926 novel The Sun Also Rises – an ode to expatriate life that brought him overnight fame.
Ernest Hemingway's life was filled with exciting changes. In 1928, his friend John Dos Passos suggested a move to Key West that would begin the author's passionate love affair with its lush and isolated beauty. His decade in Florida served as an opportunity for significant creative growth before he journeyed on to Cuba accompanied by Martha Gellhorn--the journalist and war correspondent who became wife number three!
From 1941 through the mid-1950s, Hemingway led an astonishingly colorful and dramatic life. The period was punctuated by his frequent forays overseas as a war correspondent (he covered the Spanish Civil War as a champion of the losing rebel side) and World War II (where his extra-curricular exploits at the front almost got him court-martialed but later earned him a Bronze Star); a second African safari (where he and his last wife, Mary Welsh, narrowly escaped death in two plane crashes in two days); his winning the world's top literary prizes (the Pulitzer Prize in 1953 for the novel The Old Man and the Sea) and the 1954 Nobel Prize for Literature) and two more failed marriages.
In 1959, Hemingway and Welsh bought a home in Ketchum, Idaho. Suffering from depression and failing health–a casualty of his numerous serious injuries and a lifelong habit of hard drinking–in July 1961 Hemingway committed suicide.
Hemingway's legacy as a titan of modern American literature is immortalized by two nonprofit foundations (The Hemingway Oak Park Foundation and the Hemingway Society); a national literary prize in his name; a number of formal memorials and other tributes; more than a dozen biographies; numerous Hemingway studies programs on campuses around the world and at least five museums.
Step into the world of Ernest Hemingway! Set in sunny Key West, Florida, visitors from around the globe flock to experience his home and museum each year. For an extra dose of nostalgia, be sure not to miss out on the yearly celebration held during July honoring his birthdays - it's a great way for fans everywhere to feel connected with this renowned literary figure.