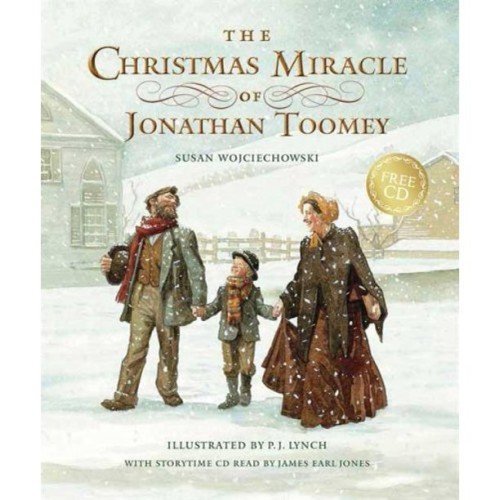 The Christmas Miracle of Jonathan Toomey is a multi-layered, heart-warming story written to express a hopeful Christmas message. This edition is a special 20th anniversary release of the classic picture book.
Jonathan Toomey is a lonely, melancholy man who finds little pleasure in life. One day, long before any doctor's expertise could help, Jonathan's wife and baby had died. His grief sent him on a journey to find somewhere else to live, far from his memories.
One December in the village where he settled and worked as a wood carver, Jonathan receives a visit from a young boy, Thomas, and his widowed mother, who are new to the village. The woman wants Jonathan to carve her some Christmas figures to replace those she has lost.
Thomas and his mother continue to visit Jonathan, with Thomas watching closely as he carves the figures: sheep, a cow, an angel, Mary, Joseph, baby Jesus and the Wise Men. As each figure comes to life, Thomas quietly and politely tells Jonathan they are not quite right – the sheep should be happy, the cow should be proud, the angel should be important, and so on. Jonathan responds with a "That's pish-posh." He doesn't have much time for a vibrant, happy life, and doesn't seem to give Thomas' comments much thought. At night, long after Thomas and his mother have left, Jonathan takes up the figures and continues to work on them.
Jonathan, despite his gruff attitude, lays down his work and teaches Thomas when he asks Jonathan to show him how to carve.
Not all the figures are easy to make, at least not until Jonathan takes inspiration from his long gone, but not forgotten, family. The resulting nativity scene, and softening of Jonathan's heart are a Christmas miracle.